Home | Contents | Arizona y Sonora > Alamos > Highway guide to Alamos | Bus service between Alamos, Sonora, Mexico and Tucson, AZ, USA
RimJournal: Arizona y Sonora
Bus service between Alamos, Sonora, Mexico and Tucson, AZ, USA
If your car won't get you there...it's better by bus!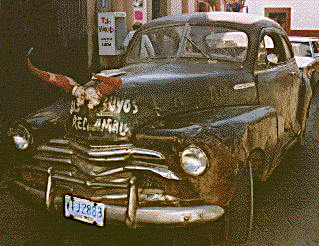 There is reliable daily express bus service between Alamos, Mexico to Tucson and Phoenix, Arizona, USA. Bus lines include TBC direct to Alamos and Tufesa with one change in Navajoa. Other bus lines leave from the Mexican side in Nogales.
The trip averages about 12 hours between Tucson and Alamos. There are several short stops at major cities along the route, including a stop at the downtown Nogales international border. Please remember that you will need your passport and a visa.
If you are able to get a local bus or ride from a friend, buses leave for Tucson from nearby Navojoa more frequently. Following are two accounts by my friends of their bus trips.
---
Tufesa bus lines: night bus from Tucson to Navajo, change of bus to Alamos
(April 2013: thanks to Glenn Alcorn for this account)
I arrived at 1830 at the Tufesa bus terminal at 550 S. 12th Ave, Tucson, AZ to catch a 1930 bus to Navajoa. I was informed that tickets were going on sale at 1900 for the 1930 bus. At 1900 I purchased the ticket ($61 USDollars) and made a seat reservation for a window about 2/3 towards the back of the bus. At that time I was informed the bus would be about a half hour late. The bus boarded all ten of us and left at 2000.
Inside was very clean and comfortable. TV consoles dropped down to provide entertainment in Spanish at low volume. Also, there were two very clean toilets in the rear of the bus. I had plenty of room with an empty seat next to me.
First stop was across the border at Nogales. An immigration official asked for US citizens whereupon I produced my still-valid 6 month visa. We then paraded off the bus with our luggage into a room where we lined up and pushed a "red" button on a machine. The bus was taken to be washed and cleaned and then we re-boarded after about twenty minutes.
About four more stops were made throughout the night at various cities including Hermosillo, the capitol of Sonora. I managed to sleep between all of them.
The bus arrived in Navajoa at 0530. I asked where the bus to Alamos leaves and I was instructed to go around the block and catch the local bus (TBC) first leaving at 0630.
After purchasing my ticket ($30 MX pesos), I was lucky to get a seat in the second row when boarding. This particular bus stopped very often along the way and picked up school children and workers on their way to Alamos. In fact, the bus was so overcrowded that no one was allowed to board after 5 or 6 stops.
We arrived in Alamos an hour later at 0730. All in all, less than 12 hours of clean comfort with just one bus change. I look forward to the opportunity again.
---
TBC bus direct to Alamos from Tucson and return (1999 and 2002, 2011 updates)
For schedules, rates and locations (the phone may be answered in Spanish, but they will switch you over to an English operator):
Conexion Phoenix/TBC at (602) 258-2355, 258-2445 or Tucson TBC at (520) 903-2801 and (520) 6701534.
Prior to boarding the bus, you will need:

your driver's license (or other acceptable photo i.d.)
your passport (if you not a US citizen, make sure you can enter or re-enter the USA on your current visa).
in theory, a Mexican visa, check with a Mexican consulate or a travel agency before entering Mexico.
(Feb 2002: In practice, the bus drivers don't like to wait for passengers to get a visa or to get their visa form stamped on entering Mexico. Tell your driver if you plan to do this at the Nogales entry point. If he forgets and leaves you, don't panic. Take a taxi to the bus depot, as all the buses go there before continuing on. They will probably refund your taxi fare. Bus riders arriving in Alamos without a visa have not had any problems so far.)
On the way back from Alamos, we had to get off the bus in Nogales for US Customs, open our luggage briefly and show our identification. Since there were only 8 people on the bus at that point, this border crossing went quickly. If traveling on a holiday or weekend, factor in more time.
(Feb 2002: the bus enters Mexico from the USA at the downtown Nogales port of entry. You will have to carry all your luggage off the bus and walk it through a red light/green light customs check yourself, so travel light.)

If you carry a cell phone and want to have someone pick you up at the Tucson bus station, you can get reception at the border, which is about an hour from Tucson.

Get your tickets ahead of time, at least by a few hours. You may have to pay cash. We heard that on a Sunday it was not possible to board the bus in Alamos because the tickets were sold out (thereby making you wait another day).

To get the bus in Alamos: Go to the north side of the Alameda (the main shopping square in town) and look for the tiled bus station. There is a regular ticket window, waiting room and bathroom. The attendant and drivers do not speak English, so if you are not bilingual you will have to hope that another English speaking amigo is traveling on the same bus.

The bus itself is very modern and comfortable, with high back contoured seats. There are TV monitors on which the driver plays movies. We saw standard American movies with Spanish subtitles, but I hear that sometimes drivers have played XXX movies. The driver plays Mexican cassette tapes for his own enjoyment, which conflicts with the movies if you are sitting in the front of the bus. The drivers also smoke, which is not allowed, but with their window open, so it doesn't become a problem. With all this activity at the front of the bus, you may want seats in the back.
You will be asked to choose a seat number before boarding the bus, when you purchase your ticket.

Returning from Alamos to Tucson the trip is at night so:

Wear comfortable clothing and take a jacket. It got cold in the early morning.
Ear plugs are a plus!
There is a bathroom on the bus, but I used the bus station restrooms along the way (10 minutes at each stop), which were very clean. Carry your own toilet paper with you.
A pillow is more than helpful.
As for luggage, carry only what you can lift easily on your own and little or no valuables. If you have soft sided luggage, you can squeeze your items in an overhead rack. You may also store your luggage in the trunks below the bus, but I didn't want to worry if someone would take the luggage at a stop if I was sleeping.

Our experience with TBC bus lines was very positive. It is a viable way to travel if you don't want to take your car and hassle with Mexican insurance, tolls, traffic and gas.

Many thanks to Ann Shiff for this 1999 article. (updated with info from Jim Toevs and from The Alamos Guide, February 2002)

Figure 1: Photo of our favorite local car (as long as we don't have to rely on it) parked in front of the Alamos town market.

Back to Alamos toc or browse church | photos | map | events Panadería | tours/ attractions | shopping | day trips | music | cafes and restaurants | street vendors and markets | food specialties | Teresita's Panadería and Bistro | highway guide




RimJournal Home | Contents | top of page

Browse: Arizona and Sonora | Alamos, Mexico | desert wildflowers | adobe/mud brick | recipes | Portfolio art, poetry, short stories

Contact us
Photographs, artwork and text are copyright © Carolyn Leigh, 1996-2013. All rights reserved.
http://www.rimjournal.com/arizyson/alamos/busrides.htm
RimJournal, Tucson, AZ, USA at www.rimjournal.com/